Explore the 2017 Dodge Durango in Plainfield, IN
The 2017 Dodge Durango is a bold sport utility vehicle that blends style with power. Offering plenty of room inside for passengers and cargo alike, it's a smart choice for all your upcoming road trips, not to mention errands around town.
Trim Levels
Choose the SXT, which comes with 18-inch carbon aluminum wheels that have an appealing satin finish. Alternatively, go with the SXT Plus. It has bright side roof rails that are eye-catching and highly functional when carrying large loads that won't fit inside the car. Plus, you might decide to get the GT. It offers 20-inch hyper black aluminum wheels.
There's also the Citadel, which has a dual exhaust system with bright tips, plus 20-inch aluminum wheels with a fully polished finish. You can also get this trim level with an anodized platinum finish. Finally, consider the R/T, which has a sport suspension system, automatic headlamps, and body-color door handles among its perks.
Engine
There are two engine choices for the 2017 Dodge Durango. The first is a 3.6-liter Pentastar V6 engine that gets up to 295 horsepower and 260 pounds per foot of torque. Also, consider the 5.7-liter HEMI V8 engine that's capable of 360 horsepower and 390 pounds per foot of torque.
When equipped with the standard eight-speed automatic transmission, the Pentastar engine gets up to 25 highway miles per gallon. Furthermore, if you want maximum towing power, get the HEMI V8 engine, which can pull up to 7,400 pounds. Even if you opt for the Pentastar engine which is the standard option for this model, it still packs a punch by offering towing capabilities of up to 6,200 pounds.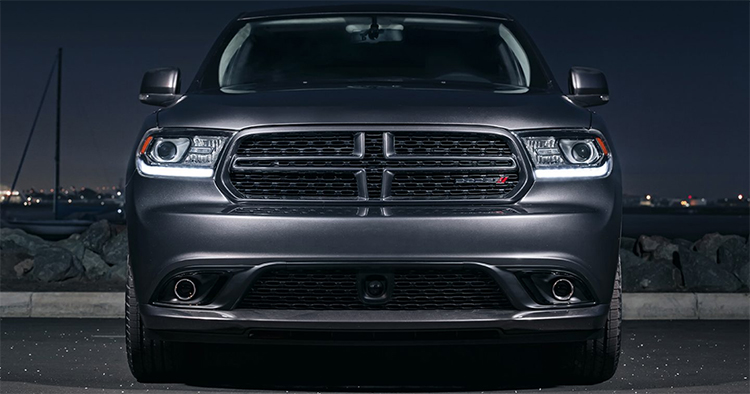 Performance
If you get your 2017 Dodge Durango as a rear-wheel drive model, it has close to a 50/50 weight distribution between the front engine and rear drive axle. When you accelerate, weight shifts to the drive axle, which increases the downforce and gives better traction.
There's also a trailer sway control feature that comes standard on this vehicle. If you're pulling something and your load starts to go back and forth, the system automatically detects that instability and may apply the brakes to alternating wheels or reduce the engine throttle. As mentioned in the previous section, this vehicle has an automatic transmission. However, the shifter has a built-in rotary knob that allows you to make minute adjustments once you've chosen a particular gear.
Interior
The 201 Dodge Durango has a steering wheel equipped with paddles so you can exert some manual control over the transmission's function. Furthermore, this roomy vehicle has seating for seven, so it's great if you have a large family or like to go on trips with several friends.
Safety Features
The Dodge Durango has numerous air bags, along with available safety features that help you keep a safe distance when using the cruise control, feel confident when backing out of a parking space, or achieve greater traction despite tough road conditions, among other advantages.