4 Features That Show the 2019 Jeep Cherokee Is Perfect For Adventurous Families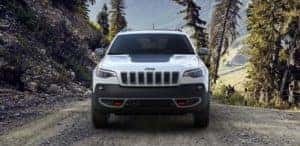 Jeep has long been associated with adventures. Their rugged vehicles demonstrate the company's love for the outdoors and commitment to drivers who want more than just a commuter car. The 2019 Jeep Cherokee takes this adventurous spirit and marries it with a more traditional SUV design to create the ultimate rugged family vehicle. Here are four features that show why the 2019 Jeep Cherokee is perfect for adventurous families.
Active Safety Options
Making sure you and your loved ones arrive safely at your destination is always a top priority for any family. The 2019 Jeep Cherokee is loaded with available safety options to help ease your mind and keep you safe on the road. 
All models of the 2019 Jeep Cherokee come equipped with a rearview backup camera. Rear-cross traffic alert, rear parking sensors, blind-spot monitoring, navigation, forward collision warning with automatic braking, traffic-adaptive cruise control, and lane departure warning active safety systems are also available. Many of the active safety features are available as part of the Technology Group package that can be added to the Limited, Trailhawk, and Overland trims.
Available Technology
The 2019 Cherokee comes with Jeep's intuitive and easy-to-use infotainment system. Android Auto and Apple CarPlay are available across all trim levels for 2019, allowing smartphone users to access their favorite entertainment and navigation apps through the touchscreen.
Other technology includes automatic high beams, automatic lift gate, hands-free entry, plus heated and ventilated front seats. Depending on the model selected, many of the Cherokee's technology options come standard, but there are always options to add on packages if you want the extra features.
Off-Road Abilities
Now for the adventure: the 2019 Jeep Cherokee comes in a Trailhawk configuration that's being lauded by off-roading fans around the world. This trim level includes a number of features specifically designed to tackle rugged conditions. Whether you're heading to a camping ground or gearing up to hit the trails, the Trailhawk is the perfect vehicle for adventurous families.
The 2019 Trailhawk trim features an advanced all-wheel-drive system, increased ground clearance, skid plates, a suspension system that's tuned for off-roading, and hill ascent and descent controls. The interior of this model boasts exclusive leather-and-cloth upholstery with plenty of room for the whole family and your adventure gear.
Comfortable Drive
No matter which 2019 Jeep Cherokee you decide to buy, all of these models offer a smooth, comfortable drive with an excellent range of suspension systems that work to eliminate harsh bumps, even when on unpaved roads. Noise-reduction windshields are available and help keep the interior whisper-quiet. Seats are supportive yet comfortable with excellent lumbar support for the driver. The available engines, ranging from a 2.4-liter four-cylinder engine to a V-6 option, provide plenty of power to keep up with traffic. Finally, the Jeep Cherokee's steering is solid and grounded and allows this SUV to easily tackle any terrain.
The 2019 Jeep Grand Cherokee is perfect for adventurous families who need both practical value and solid performance.
Image via Jeep.com: https://www.jeep.com/cherokee/gallery.html