4 Great Reasons to Buy a Jeep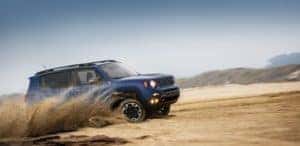 We know that Jeep owners feel a certain pride of ownership. Whether seeing a fellow Jeep driver on the road or in a parking lot, that Jeep connection is automatically there. It's like owning a Jeep makes you part of a special club. And while we know that the list is long of all the great reasons why Jeeps are some of the best vehicles on the market, we've compiled some of the top reasons. Below we highlight some of our favorite (and most convincing) reasons as to why a Jeep should be your next vehicle.
Versatility
From the ultimate off-road machine known as the Wrangler to the all-American, classic Grand Cherokee, the diversity within the Jeep lineup makes finding your perfect Jeep both easy and convenient. Whether you're just starting off in your driving career or looking for a vehicle that will help you travel across the country, the Jeep brand has an SUV for you. Plus, within the Jeep lineup, each make and model is designed and engineered in such a way that no model is too similar. For instance, the difference in length of Jeep's wheelbases makes these vehicles very versatile and functional for all of your driving needs.
Cargo Space and Comfort
Depending on the Jeep model and trim level, you will discover the specific specifications on exact cargo and passenger room, but we can say with confidence that no matter what Jeep you choose, you'll be pleasantly surprised with the amount of storage room and interior comfort. Not only do newer Jeep models give way to more legroom, but the new designs feature more headroom, which adds to the amount of storage and space capacity.
Driving and Handling
While made for both on-road and off-road driving, the 4×4 capabilities of any Jeep make it ideal to drive on any and all road types. In fact, Jeeps were designed to be driven wherever and during whatever weather conditions. The ease in maneuverability and smooth acceleration make this vehicle both a pleasure to drive in the city (even during parallel parking) and on the roughest of roads in the middle of nowhere. Plus, the simple construction of the Jeep design makes repairs uncomplicated and more affordable, keeping those costs in check.
Interior Advanced Technology
Featuring top-of-the-line technology, Jeeps were definitely made to impress. From personalized instrument clusters to engine start-stop technology to UConnect access, no matter what Jeep you choose, you'll have a variety of amenities that will help add both convenience and luxury to your drive.
On top of it all, the Jeep is in a class of its own. With no major competitors, no other SUV can really compare to the value that Jeeps offer. And there you have it — just a few of our favorite reasons why you should choose to buy a Jeep as your next vehicle. But don't just read it here, stop on by and test drive one today — we know that you won't regret it.
Image via www.jeep.com