6 Reasons Indianapolis Is the Best City to Live In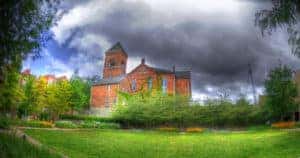 What makes a city a great place to live in can provide a wide range of answers. While some cities boast miles of sandy beaches or magnificent mountain views, Indianapolis has its own list of best reasons to head to The Circle City.
Neighborhoods
Indianapolis neighborhoods are diverse in their landscape, accessibility, nearby shopping, things to do, and community interaction. Choose new homes or quaint bungalows in quiet surroundings.
Many of the city's neighborhoods are self-contained and located near public schools and medical facilities. Residents are within walking or biking distance to small shops and have easy access to restaurants, coffee shops, grocery stores, and parks. 
Schools
U.S. News & World Reports released its 2017 rankings for best city, schools, and colleges. Indianapolis ranked at No. 55 as one of the best places to live in the United States and has 23 high-ranking high schools and 10 colleges in the state in or near Indianapolis. Overall, there are 100 public schools covering elementary through high school, 158 private schools, and 10 universities. For families, Indianapolis is a gold mine for education.
Job Market
Indianapolis gets a thumbs up for job opportunities, as the city is experiencing a growth in the job market in areas such as tourism, health care, administrative support, and sports.
The current job market index is 6.9/10 with an unemployment rate of 3.3 percent, which is lower than the national average.
Medical Facilities
Having access to quality medical care is a top priority for all ages, and Indianapolis offers many choices in health care facilities. There are community hospitals, rehabilitation facilities, heart and vascular centers, a VA hospital, and a children's hospital.
Attractions
When someone mentions Indianapolis, for most, the first thing that comes to mind is fast cars racing their way to victory at the Indianapolis Motor Speedway, which is home to the world-famous Indy 500.
The iconic race is getting geared up for its 102nd running in 2018 and as always, the speedway will play host to over 300,000 racing enthusiasts. This annual event boosts tourism and provides job opportunities and benefits to small- and large-business owners, from local diners and specialty shops to hotels and nightlife venues.
Points of Interest
There's never a dull moment in Indianapolis because there are so many things to do for singles, adults, seniors, and families. For outdoor entertainment during the day and evening, there's White River State Park. For families, the Indianapolis Zoo, The Children's Museum, and the Museum of Miniature Houses offer an exciting time for everyone.
On the cultural scene, the city has numerous art museums, parks, monuments, and gardens. Other points of interest include the Monon Trail, the Indianapolis Catacombs, Fort Harrison State Park, and the Indiana State Capitol building.
Indianapolis has an interesting history, as the area was once the home of the Delaware Nation. Founded in 1820, residents enjoy the rich history of its past blended with the present, creating an inviting environment to those who make the city their home.
https://www.flickr.com/photos/sergemelki/3733216726/sizes/l
Image via Flickr by Serge Melki