Enjoy getting around Indianapolis with the Indiana Pacers Bikeshare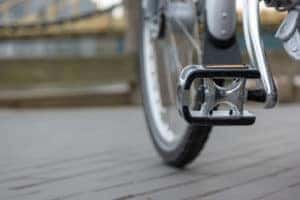 The news on the street is that Americans are falling in love with bikeshare. It's an eco-friendly way to make quick trips, get some fresh air, and explore downtown Indy on two wheels. Keep reading to learn everything you need to know about this innovative program.
About Pacers Bikeshare
It looks like cycling has hit the mainstream in Indiana. Named after the Indiana Pacers basketball team, the program was funded by a generous gift from the Herbert Simon Family Foundation. The program makes it economical and convenient to grab a bike and pedal to your favorite restaurant for a bite to eat or nearest bus stop if you have a longer journey in mind.
Indy's public bikeshare system offers cyclists 29 stations and 251 gold bikes with extensive expansion plans in the works for 2019. Available 365 days a year to everyone with a pass, all pick-up stations are near the Indianapolis Cultural Trail, your favorite local haunts, your workplace, and in your neighborhood. 
How To Get a Pass
Getting a bikeshare pass is easy. Visit any bikeshare station kiosk for a day pass or purchase your monthly or annual pass online. The bikeshare program is intended for quick trips. This ticket gives you unlimited access to a bike for up to 30 minutes. Once you've got your monthly or annual pass in hand, enjoy an unlimited number of quick rides over your voucher's duration.
Look for special winter pricing, in which you can get a day pass for just $5 from December through February. Pacers Bikeshare passes also make a unique gift for that special someone.
The Gold-Colored Bikes
Indy's Pacers Bikeshare bikes are engineered for urban travel, with three speeds to manage Indy's gentle grades. They're completely customizable and easily accommodate people who are short and tall, thanks to the adjustable seat post.
Store your groceries, backpack, or whatever it is you're carrying in either the front and rear pannier basket. Fenders, skirt, and chain guards keep your clothes from getting dirty, while automatic lights keep you safe after dark.
Practice Safety First
Indianapolis is an innovator in bikeshare infrastructure and features a variety of protected paths downtown. Even on the busiest street, relax and enjoy a safe and fun ride when you follow some basic rules of the road.
Don't ride on the sidewalks unless it's part of the designated route. Cars can't see you, and you might cause an accident. Always "ride to the right" with the flow of traffic, and maintain a safe distance from cars. Riding against the flow of traffic accounts for a high number of dangerous collisions.
Give pedestrians the right of way, and always pass on the left. Use hand signals when changing direction, and abide by all stop lights and stop signs.
Indy's Pacers Bikeshare program is a healthy, sustainable way for visitors and residents to travel about the city. Adjust the seat, strap on your helmet, and go!
https://www.flickr.com/photos/paulwasneski/27998398617/sizes/l
Image via Flickr by paul.wasneski