Explore the White River State Park area in Indianapolis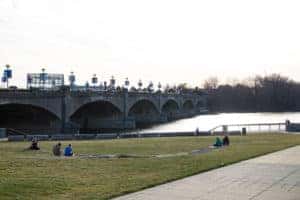 White River State Park is one of the premier recreation destinations in Indianapolis. At 250 acres, it is also one of the largest. Whether it's your first time visiting the park or you just want something new to try, here are some of the things you can explore at White River State Park the next time you go by yourself or with friends and family.
IMAX Theater
In White River State Park at the Indiana State Museum's IMAX Theater, you can see a movie up on the giant screen. It is an incredibly immersive experience, whether you want to watch an educational movie or a feature film. You can always buy tickets in advance by calling (317) 233-IMAX or by going directly to the theater's ticket office.
Indianapolis Zoo
The Indianapolis Zoo is located at 1200 W. Washington St. It has been open since 1964 and features 1,400 animals living on a large 64-acre campus. It is a fun place to learn about local wildlife and to see exotic animals you may otherwise never be aware of. The zoo frequently hosts special events for holidays and other zoo events.
NCAA Hall of Champions
Nestled just along the White River, the NCAA Hall of Champions celebrates the student-athletes everywhere. It has information about all 24 sports currently included in the NCAA, with hands-on displays and educational materials that engage adults and kids alike. The recently renovated facilities include a retro gym with vaulted ceilings and interactive exhibits. You can even host an upcoming meeting or event in one of its conference room spaces.
Eiteljorg Museum
The Eiteljorg Museum is a fine art museum showcasing the work of Native American and Western art. It is one of the only museums to do so in the world. There's a specific exhibit that explores the indigenous people of Indiana, as well as other artifacts from Native American life across the United States. You can find the artwork of many recognizable artists, including Georgia O'Keefe, Andy Warhol, and Frederic Remington at the museum. Be sure to check out the museum's gift shop on the way out to find unique gift options.
See a Concert at the Lawn at White River
You can watch a concert at the Lawn At White River, which is an outdoor venue that can hold more than 50,000 people. It is the only urban cultural state park in the United States. Major performers have concerts at the park, including Bob Dylan, Earth, Wind & Fire, and Daughtry. Most of the concerts require a separate ticket but are well worth the small investment to see amazing concert performances.
White River State Park is one of the places that makes Indianapolis so special. With so much to do in an urban environment, it is tempting to not venture any further. Whether you spend the day exploring the Indianapolis Zoo or seeing an IMAX film, you're sure to have a great time.
https://www.flickr.com/photos/kevmasphoto/16546705814/sizes/l
Image via Flickr by Kevin Maschke