Spend a Day in Indianapolis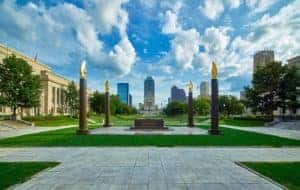 The weather is warming and that means more people are looking for things to do. There are many places to find fun events, especially in Indianapolis. There are outdoor events and indoor activities, as well as seasonal events coming up. Plus, there are plenty of events planned for children of all ages so that your family can spend a lot of time together. The key is to know where to look. Here are several ways to spend a day in Indianapolis.
Monon Rail Trail
One of the best ways to spend an active day outdoors is on the Monon Rail Trail. It stretches through several cities, starting at Sheridan and running down through Indianapolis. The trail itself is paved all the way throughout, making it perfect for walking and running. Plus, you can use light vehicles like bikes, roller skates, and skateboards. It is 10 feet wide at its smallest and 15 feet wide at its widest, making it ideal for maintaining traffic.
Along the route, there are plenty of scenic views, including rivers and wooded areas. There are plenty of rest stops along the way too. If you are looking for a longer path, then take the Monon Rail Trail further south to the Indianapolis Cultural Trail, which merges past the fairgrounds.
White River State Park
Another place to spend a day in Indianapolis is White River State Park (WRSP). WRSP is right on the water across from the Indianapolis zoo, or near Victory Field. There is plenty to do at WRSP because the city hosts a variety of events there. These include learning activities like the upcoming cardboard construction exhibit, which lets people experience cardboard construction projects for themselves. Movies are also hosted there in the IMAX Theatre. There is a list of upcoming movies available on the facility's website. The best part about WRSP is that it is in the middle of downtown so that it is easy to get to other nearby attractions.
The Children's Museum
You can also check out the Children's Museum of Indianapolis if you are looking for things to do with your children. The Children's Museum is designed entirely for them with interactive exhibits and other fun things to do. Although it is for kids, it is still very interesting for parents as well.
The Children's Museum is one of the largest in the world, containing more than enough interesting articles to justify spending an entire day there. It is also preparing new exhibits like Mission Jurassic that bring together other exhibits and scientists from around the world to complete. There are also exhibits by influential kids programs like Paw Patrol and Hot Wheels.
If you are looking for something fun to do, check out Indianapolis. It is a large city, packed with fun indoor and outdoor events for you and your family. Many of the attractions are designed to be family friendly and stay open year-round. That way, there is always something new for you to try.
Image via Pixabay: https://pixabay.com/photos/indianapolis-indiana-city-urban-1888215/