Stand Out in A Special Edition Jeep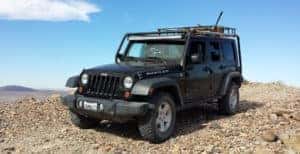 For decades, Jeeps have been highly iconic cars, to say the least. The off-road vehicle of choice for countless drivers across the world, there's nothing quite like the experience of rumbling through the wilderness in one of these beauties.
Also, there's a wide selection of Jeeps available that are more suited to exploring the suburban jungle, too, so they are certainly a versatile brand. However, some of these beasts are a little rarer than most, so check out these special edition Jeeps.
2018 Wrangler JK Rubicon Recon
The Rubicon Recon is essentially everything that makes Jeeps unique, distilled into one car. Even just a glance at the Rubicon Recon will tell you that this is a car built for some serious off-road action. It comes fitted with premium off-road rock rails and tread plates as standard, so there's not a lot that can get in the way of this car. 
It's not just about the performance, either — the Rubicon Recon has looks that kill, too. Thanks to its military-inspired front axle and distinctive style, this is a car that's sure to turn heads. It's perfect for your very own desert missions, or any trips that require you to traverse tricky terrain.
2018 Wrangler JK Altitude
While the Rubicon Recon is still a surprisingly zippy model, its bigger brother, the Altitude, is built like a tank. Set on 18-inch highly polished wheels, it towers above other cars, and the engine is so powerful that it takes a bulging hood to hold it all in.
To make it even more distinctive, the Jeep engineers have also fitted this Altitude model with gloss black exterior accents, to add a touch of style to such a rugged vehicle.
Inside, liquid titanium accents abound, and the heated, leather-trimmed front seats ensure a comfy ride over even the roughest roads. In all, if you're looking for a car that can put up with anything nature might throw at it, then the latest Wrangler JK Altitude could well be the one.
2015 Jeep Patriot High Altitude
The 2015 Jeep Patriot High Altitude is more suited to urban explorers. While this model still comes fitted with all the features that makes Jeeps such tough cars, the High Altitude has more of a focus on style and comfort.
For instance, this Jeep allows you to switch between 4×4 and 4×2 drive modes at will, so if you're driving on smooth highways, you can make the car a bit easier to handle than if you went off-road.
It also comes fitted with a heap of premium features as standard, from illuminated cupholders to CVT2 automatic transmission. The exterior looks great, too, so this should be the special edition Jeep of choice for anyone who likes their cars to come loaded with style.
No matter if you like the off-road or you prefer the urban jungle, there is a Jeep for you. And if you really want to stand out from the crowd, then consider one of these special edition Jeeps — they all offer something truly special!
https://www.flickr.com/photos/chiropractic/10820766215/sizes/l
Image via Flickr by planetc1