Why Experienced Drivers Love the 2018 Chrysler 300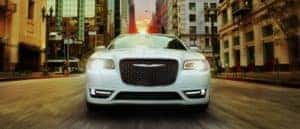 If you're an experienced driver, then you know it's important to have a vehicle that offers reliable, electrifying performance. Fortunately, seasoned drivers looking for an automobile that delivers a world-class ride time and time again should look no further than the 2018 Chrysler 300. This luxury sedan has performance features that veteran motorists want and need, and investing in this model is an excellent choice if you want the best drive of your entire life.
Two Unstoppable Engines
For skilled drivers, the best reason to choose the Chrysler 300 is having access to two of the top engine options available in the luxury sedan class. Whichever engine model you choose, you'll enjoy responsive, unforgettable performance.
The base engine of the 300 is a Pentastar 3.6-liter V6 that outputs an incredible 300 horsepower so that you have rapid acceleration and the power that you need for long highway drives. If you prefer a little extra get-up-and-go under the hood, you can upgrade to the optional 5.7-liter V8 HEMI engine. With this engine, you'll have 363 horsepower, which is the best V8 horsepower rating in the luxury class. Both engines are paired with an eight-speed automatic transmission.
Get the Traction You Need
Maintaining traction is one of the keys to having the best and safest driving experience possible, and if you select the 2018 Chrysler 300, you'll have access to a variety of performance features designed to keep you in control at all times. For starters, the 300 is available with an advanced all-wheel-drive system that engages at any and all speeds. Once activated, this system will monitor your driving style and road/weather conditions, making necessary adjustments to engine performance to optimize your traction.
The 2018 300 also offers an Electronic Stability Control system that works to prevent your vehicle from spinning out. If you're out for a drive and ever oversteer or understeer your sedan, Electronic Stability Control will adjust your torque so that you can keep your vehicle on the straight and narrow.
Great Handling and Fuel Efficiency
Whether you're zipping along the highway or cruising around a parking lot looking for a space, be sure that you have smooth and precise steering, which is exactly what you'll get with the Chrysler 300. The electric power steering system of this sedan provides the world-class handling you deserve, and it lets you direct your vehicle with the greatest of ease.
The 300 also offers technology that helps you maximize fuel efficiency. The available V-8 engine includes Fuel Saver Technology that monitors driving conditions to determine when you do and do not need full engine power. If you're cruising along the highway and full engine power isn't needed, the Fuel Saver Technology system will shut down four of your eight engine cylinders to help you conserve fuel. When you need more power, these cylinders will reactivate so that you have full performance.
For drivers in the know, there is no better sedan on the market today than the 2018 Chrysler 300. Schedule a test drive of this vehicle at your local dealership and get the rock-solid performance you deserve.
Image via Chrysler: https://www.chrysler.com/300.html